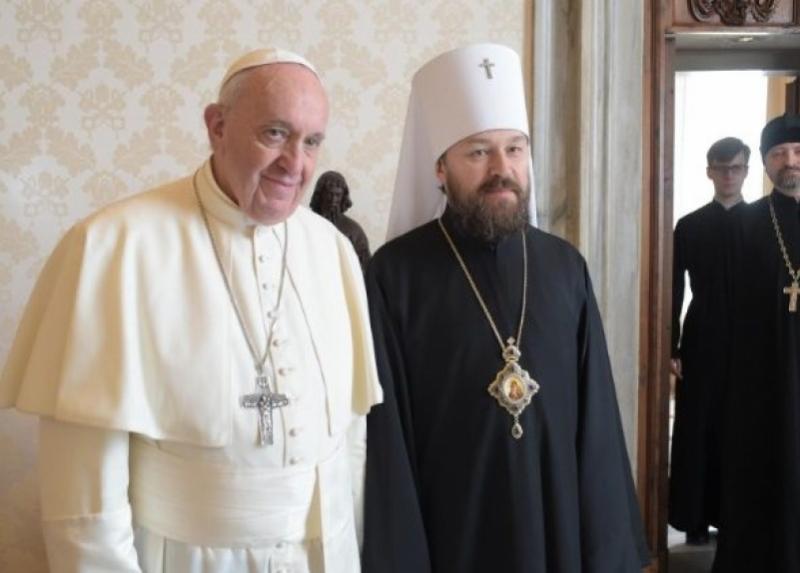 Metropolitan Hilarion: working together to defend Christianity
On February 12, the Metropolitan took part in a meeting of the Joint Working Group on Cooperation between the Holy See and the Russian Orthodox Church, and in the afternoon, in an interfaith conference at the Pontifical University of St. Thomas Aquinas, dedicated to the theme: "Saints are signs and seeds of unity." In an interview with the Vatican radio correspondent, the hierarch spoke about the ways of convergence of the two Churches in the context of modern challenges:
"I call this collaboration a strategic alliance between Catholics and Orthodox. I mean that we now have no opportunity to solve all the accumulated problems of a theological and ecclesiological nature, but nothing prevents us from working together and feeling like not rivals, but allies.
For this, we do not need any compromises in the field of dogma, for this we do not need any theological agreements or unions: for this, only good will is required.
We must understand that the future of Christianity is in our hands. But Christianity in different regions of the world often finds itself in a hostile environment. In order to preserve Christianity, we must learn to act together, and this applies not only to the Middle East, it applies to Europe and America, where Christian values ​​are questioned, criticized and often even expelled from public life, the representative said Moscow Patriarchate. -
We must learn to protect our values ​​such as marriage, understood as a union between a man and a woman, created with the goal of giving birth and raising children. I named only some areas in which a very wide field for cooperation and joint action opens up for us. "